Hey "spankees" – my name is Beth and I'm a lifestyle domme into all kinds of kinky play, but I really love impact play, especially spankings. Yep, I'm a total "spanko" and I really do this stuff all the time, so if you call me for spanking phone sex, not only can I talk to you about the spanking I'd like to give you, but I can also tell you some of the stories I have of spankings I've given in the past.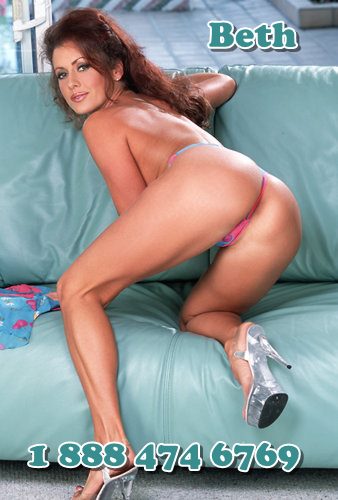 Like just the other night, I was at a kinky pajama party that took place at a hotel suite. At one point in the evening I had a hot woman laid out on one of the beds with her head at the end of the bed, and I was spanking her bare ass while she gave her boyfriend a blowjob. True story. I used paddles, crops, a paddle brush, a wooden spoon, a dragon tail, and my bare hand. Then her boyfriend asked me to remove my panties, and, well, you'll have to call me to hear the rest of that story…
Then there was the time I had this hot guy in my bedroom, and he had given me permission to do whatever I wanted to his body. I had him up on his knees, and first I did unspeakable things to his cock and balls from behind, which got me so excited that I had to lean down and bite his ass cheek. Did I mention I like to bite? Well, the bite left a nice lipstick print behind, so when I spanked him with my leather fly swatter it picked up the lipstick and put it back down all over his ass, so before you knew it his ass was red and kissed all over!! Want more details? Call me now for spanking phone sex and I'll tell you what else we did that day….
Call 1 888 474 6769 and ask for Beth for spanking phone sex!
Google Hangouts IM: Bethcumsxxx5@gmail.com
Yahoo Messenger: Bethcumsxxx
Tumblr: bethcumsxxx4u
Twitter: @Bethcums4u