Not gonna lie—it's been so damn hot lately I mostly prance around straight up neked, or at best, in a light summer dress with nothing underneath. BUT when I'm feelin fancy…or slutty lol and goin somewhere nice, I can dress to the nines! I whip out my matching lingerie, red lipstick, most expensive perfume, and most importantly–my long sleek pantyhose and tall ass heels! If you're into pantyhose fetish phone sex, feel free to email me at FrankieGetsThePartyStarted@gmail.com and I'll even let ya pick which pantyhose I wear during our call! I've got all colors, even red, & some special ones too. Yes, fishnets included! My FAVORITES are my vintage fashioned ones with the seam running down the back of my legs! Nothing says STYLISH like the 40s & 50s! But just cuz my style that night may be retro, don't go thinkin it means my moves in the bedroom are! Speaking of which, you better do some stretching before takin ME out on a date!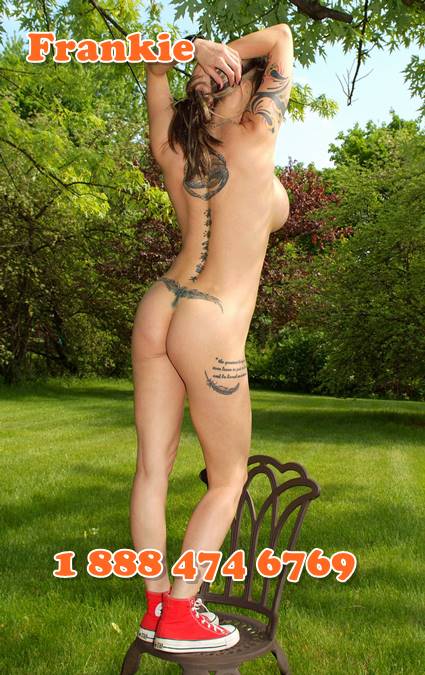 But after dinner, running our mouths, and all that jazz, then comes the best part! Having YOU peel those pantyhose off me like a second skin—-mmmMMMmmm—gives me goosebumps just playing it all out in my mind! Buuut, let's not get ahead of ourselves buddy! You gotta de-Cinderella me & take off my heels first! And I think I've failed to mention this, but I have PERFECT feet! Granted, my tits are too but I guess the good ol' doc deserves some of that gratitude! Ha! But my feeeet—au naturale baby! Soft skin, flawless arches and toes, plus always polished to please! (Here's a hint…when it ain't casual, my polish ain't either. I try to match it to my lingerie…gives you a clue on what color panties my pussy might be creaming as I stroke your cock under the dinner table–BEFORE the real fun begins!)
So if you're ready to worship my long legs, give me a ring for some pantyhose fetish phone sex! If you're REALLY cool, you'll even use a rotary phone to call me! Haha!