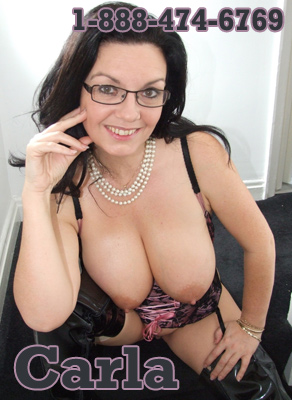 I am a strong believer in spanking phone sex and it is one my specialties. Naughty boys need to be spanked. And I show no mercy! I will spank you with my bare hands and leave the beet red imprints of my firm hands on your bare ass during an otk spanking. Or I will get out my flat wooden hairbrush and use it like a paddle and whack your bum for a little domestic discipline. Confess what you did or I will spank it out of you, you disobedient little naughty boy! I don't care if I make you cry, in fact, I love your tears and that is always my goal when spanking your bare bottom.
We can role play your most wicked spanking fantasy. Or I will tell you how it's going to be here at the strict private school. I introduce myself as the new Head Mistress and a strong believer in corporal punishment. Or now that your new step mommy has arrived and taken over the household. What better way to enforce my new rules with a good, hard, over the knee bare bottom spanking. I bet you didn't know that my ladies who lunch group has a spanking slave that we use and abuse during our lunchtimes. I know of these spanking fantasies is making your dick hard isn't it? You love spanking phone sex as much as I do!
I have spanked men till they orgasmed right while I was giving it to them over the knee. Then I made them lick up their mess off my sexy stockinged thighs. Maybe you're a pain slut or maybe you like the control that a dominant woman takes over you when she decides to spank you. You can tell me all about your spanking fetish and desires when you call me for OTK Spanking Phone Sex. Call 1-888-474-6769 and ask for Carla!
AIM  – MILFCarla4u