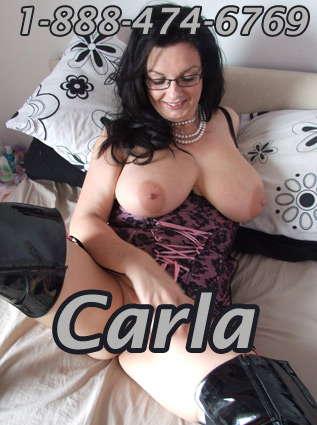 I shout it loud and proud, I am Carla and I love big black dicks! And that is why you should call me for BBC phone sex. I'd like to say I exclusively fuck only black dick, but I am an equal opportunity big cock slut and size queen. I need my cock big, thick and hard and blacker is definitely better. How fucking hot is it when that black mandingo dick slides right between my lily white fat tits? My hot pink tongue licking over that hard black helmet head, my pussy dripping between my thighs. You love to watch your wife or girlfriend get fucked by a BBC don't you? Well maybe she's not so willing, yet, but I know it's one of your biggest fantasies. Your innocent wife being taken and used by my big black cock lover and maybe a couple of his friends. I know you have never heard her cum so hard from your white dick.
I do admit that the only thing hotter than me on my knees worshiping a thick black pole, is you on your knees right next to me. Maybe we share that BBC, both of us sucking on it, licking those heavy black cum filled balls and servicing our Black Master however he sees fit. Although I have a feeling you are a greedy slut and want that BBC to yourself. That's good too, I love turning you into the sissy white bitch that was made to serve superior black cock. There will be plenty and I'll get my share as well. That's good news for you because not only will you be the biggest BBC white sissy whore ever, you'll get to taste my cunt juices on their cocks. Not only that, I hope you have a taste for cream pie, because I intend for you to eat it daily.
Looking for BBC phone sex with a mature slut who knows how much better black dick really is? If so call Carla at 1-888-474-6769 … you never know, I might have that cream pie all fresh and ready when you call!