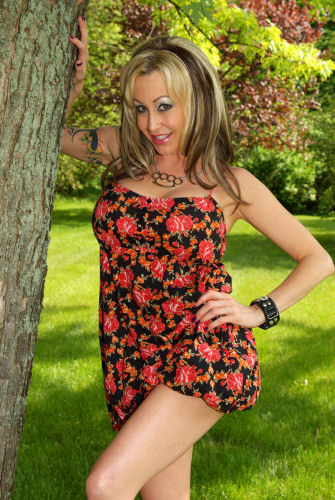 They call me Frankie, boys but make no mistake I am ALL woman. *Wink* I am that busty blonde cougar that's ready to play and party all night long. Woo! Ok, so I am divorced and in my 30's but I fuck and suck like I was 19. I feel like a teenage girl AGAIN! See, my ex hubby couldn't keep up with me so I divorced him, got some big boobs and some tatty's and joined in on all the kinky fun. Now, the hubby does crawl back to me on occasion. I think he does that purely because he loves the way I tease his horny ass off! Oh yeah babies, I discovered I like boys with BIG toys and now he gets to hear all about my sexual adventures while his rubs his horny small cock. We actually have a good thing going on and it turns out he is pretty submissive and loves to be cuckolded by his smoking hot ex wife! I also discovered I love to swing. Its true when they say, "the more the merrier". Oh and one of my young boy toys has a harley and OMG the vibrations on that big beast are A MA Z I N G (that's the boy and the Harley *wink*).
I love you young hung guys. OMG, where are you boys who had teenage fantasies about fucking your best friends hot, busty mom? Give me a youthful big prick and I will show you what an experienced older woman can do with it. Now you older men, never fear, I got lots of horny love for you too. I know, you wanna rub these big tata's and play with this hot insatiable pussy. Whatever kinky flavor you have a craving for this cougar is ready willing AND able. I have zero limits and I would love to get off with you! And I don't think it needs to be said but if you have a secret desire to be cuckolded, I am your girl. So what are you waiting for?? This great conversationalist is waiting for you. I love music, tatty's and am so much fun you will regret you didn't call me sooner. Call this busty blonde cougar tonight and lets get our freak on, babies.
Muah!!
Frankie
My specialties are: cougar phone sex, best friend's hot mom, family fun, cheating wife fantasies, getting my massive tits fucked, foot jobs, cuckolding, cum fetishes, naughty confessions, stockings fetish and shoe fetish, cream pies, swinging, bi curious fantasies, sissy boys, sensual domination, tease and denial, forced intoxication and teasing men who just love to jerk it all the time.