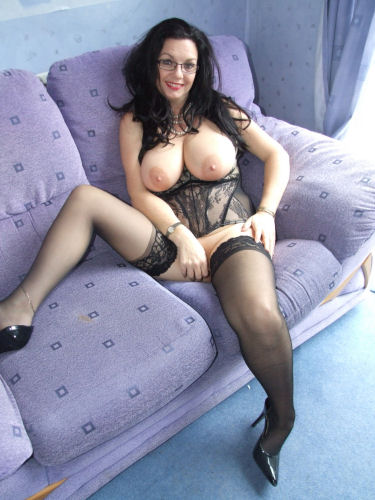 Hey boys! I am hot MILF Carla, the nastiest, kinkiest phone sex Mommy, that you'll ever have the opportunity to play with. I am also the most perverse, twisted and insatiable phone sex slut around! I will provide you with a safe, caring, non judgmental intimacy to share the darkest secrets of your mind. I believe in always pushing limits, I have none!
I married at a young age, naive and inexperienced. It wasn't long before I learned my wonderful husband was pathetically lacking in cock size and skill. I thought I was doomed for an inadequate sex life, until some years later, I was seduced by his son. Wow! I couldn't believe how well endowed he was compared to his Dad, he was at least twice his size!! Nine and 3/4 inches of incredible hard, throbbing cock just for me! Never again would I do without.
I soon learned I am multi orgasmic, I LOVE to CUM. Cum early, cum often is my motto, and enough is not a word I believe in. I have no taboos, there is no such thing as too sick, too perverted or too twisted. I thrive on the dark side and love sharing taboo phone sex fantasies. I am Sadistic and cruel and have a creative wicked streak.  I am sensual and sexual and crave all things erotic. My appetite for sex knows no limits and I always want more.
With No Limits or Restrictions… Let's role play together! I can be your loving or nasty Mommy. Have you been a naughty boy and in need of strict discipline over my knee? I specialize in ritual OTK and corporal punishment. I will be the stranger in a bar who seduces you  with her perfect legs and shiny stockings. I will be your Teacher who keeps you after school for extra credit or "special" tutoring.
Be my sissy cuckold husband, boyfriend or slut and have the privilege of watching as I get fucked like the MILF slut I need to be! There's not much I won't do for a big fat cock, and I love black cock, the more the merrier! On my knees, a cock down my throat, fucking my hot creamy cunt and filling my tight sweet ass. Oh you'd love nothing more than to clean me up wouldn't you? Hot man cum and my sweet pussy juice, does anything taste better? Do you have what it takes to make me your slut?
For the most extreme, intimate, kinkiest phone sex there is, call me now….