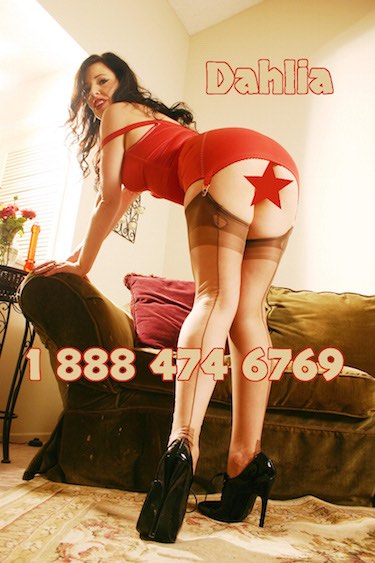 Hello, fella's. Yes, you. I am your MILF Amazon, Dahlia. What makes me a phone sex amazon? I am glad you asked. This classy, sensual, mistress stands at 5 foot 10 inches tall in her stocking feet. In these 6 inch fetish high heels I am so tall that you would have no choice, but, to look up at me. As a side note, I wait for the day a man taller than me, when I am in my sexy heels, calls. In the meantime, you may kneel and look waaaay up these long, luscious, legs of mine. Do you know what my expectations are? I expect you to worship me. Let me spell it out for you. I want you, my sensual slave, to worship my pumps, my sexy size 10 feet, my stocking encased legs, and my lovely arse.
See when it comes to amazon fetish phone sex fantasy I feel that worshipping me is key.
I like being put on a pedestal, I make no bones about that. Erotic domination just happens to be one of my specialties. Being a tall woman who is sexually aggressive and, sometimes, playfully smug, I can make you hard as marble and as obedient as they come, or is that cum? Well, you having an orgasm is debatable, isnt it? Why should I let you cum when you havent, even remotely, made me cum? You earn your climax in my world.
I flaunt being tall and I love wearing heels. No shyness here about my height. If men cant handle me then thats their insecurity. I am looking for gentleman who can use their fingers, mouth, and whole face to make this MILF feel glorious. I want you to be in awe of my amazon body! I want to watch you kiss my high heels like a good boy. I need to see you peel that shoe off and suck on my pretty toes and lick my lovely soles! I love fetish play!
I want you to follow the seams in my stockings, all the way up to nirvana! When you get there be sure to stick that face right between my arse cheeks! This mistress expects ass worship, and you better be prepared to be engaged in anal worship for the long haul. If you are an especially good slave I might even sit on your face and when I do I wont just hover there. This classy fantasy femdom will sit right down and ride your face like there is no tommorow!
Call 1 888 474 6769 and ask for Dahlia.
Yahoo and Aim: merrywidowdahlia
Twitter: amazonphonesex