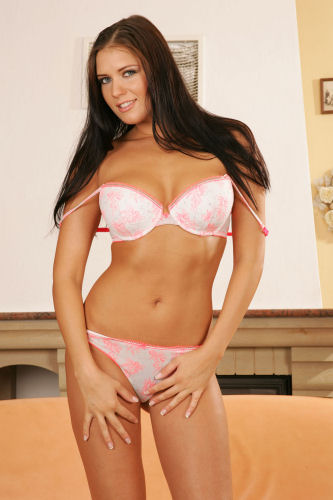 Hi boys, I'm Beki. And it is my PLEASURE to meet you! Until recently, I was a contented housewife and happily married to my high school sweetheart. Unfortunately, he eventually became married to his career and my life started to be about nothing but housework all day. What's worse, he never noticed, and my hours spent slaving over a hot stove were always wasted because he was always late!
After years of neglect, I was fed up! That's when I turned to phone sex. At first, it was just a way to ease back into meeting people. After all, I'd been a housewife for nearly ten years. But after my first call, I was hooked! Now I can't get enough hot and dirty phone sex! I finally have guys I can devote all my attention to. Guys, I can share all of my intimate fantasies with. But more importantly, guys who share their fantasies with me in return!
One night, my husband got home from work earlier than expected. He caught me in my best lingerie in the middle of an extra steamy call. His jaw dropped as I described how amazing it felt being impaled on a big black cock. But soon he was rock hard and ready to join in! We worshipped that cock together and gave him the orgasm of his life.
Since then, I've been especially fond of cuckold phone sex and cheating wife phone sex. But I'm into a little bit of everything. I love Bi and Bi-curious calls. Whether they're two girl phone sex calls or calls where you're going to be helping me suck on a fat cock. I also love calls where I get to focus all my attention on you. Cock sucking phone sex calls are the best! There's nothing I love more than a dick stuffed down the back of my throat, and some nice cum filled balls pressed up against my chin, or nose, depending on the position. 😉 And don't even get me started on creampie phone sex. I take cock and cum in all my holes! Want me to dress you up, take you out, and find you your own hot stud? I can do that too. Or, I can break out my strap-on and ride you myself!
I am sweet by nature. So if you're looking for something a little more tender and sensual like GFE phone sex, you've come to the right girl. Or maybe you're looking for a mother to do some AB/DL phone sex. I will pamper you, punish you, and take care of all my adult baby's needs.
I don't have a lot of experience with domination phone sex. But if you're willing to help me learn I am more than willing to try. I even have a few ideas for a little CBT if you're willing to work with a beginner.
So why not give me a call and share some fantasies with me? I am Beki, not all Naughty, but not all Nice.